I now use a Zebronics 360W UPS. If my PC is turned on and I am not playing a game, the UPS is fully capable of providing backup in the event of a power outage. If I'm playing a game with a load-shedding, the UPS instantly goes down and creates a continuous beeping sound, indicating a malfunction. This has been going on for about a year.
Previously, I had an iBall UPS and felt it could malfunction, so I replaced it with a new Zebronics UPS last month, but the same problem remains. I even purchased a power meter to see whether my equipment used more than 360W, but this was not the case. Even under maximum load (stress test/heavy gaming), it consumes no more than 240W, and just the CPU is connected to the UPS.
The UPS is also hooked directly into the wall. Fortunately, nothing has occurred to my system due to this, but I am concerned that some components may be harmed due to the unexpected power outage.
The problem I've faced is not unique. Many gamers have also faced these issues with their "Branded" UPS. So, I've searched the internet for the solution to this problem but couldn't find a full-filled guide. That's why I'm writing this article to help you solve this particular problem.
Let's continue deeper for the solution.
Why UPS isn't supplying backup while playing games?
This is a normal phenomenon. The UPS you're using is providing less than the demand. While gaming most of our PC need more power/ wattage for the electronics to get working. While playing a graphic hungry game the GPU is working out of its wits & drawing more and more power from the outlet. If the power gets cut during this session, the UPS which is less than the power PC needs fails to provide the GPU and APU's needs.
Thus creating the system seize & the UPS can't provide backup while gaming.
Please keep in mind that your 2k/ 4k Monitor is a power-hungry machine. If you're using an HDR monitor that will draw even more power during the power outage. So, you have to choose a suitable UPS for your need according to your system build.
How to solve UPS not giving backup while gaming?
This problem can be easily averted by buying an extra wattage/ more VA Interactive Online UPS. A UPS with more VA can provide your need when the needs come.
Suppose you're playing a game that demands 480w/h. But your 650VA UPS can't provide instant backup while gaming due to a small gap in Supply & Demand of the power.
So, if you plug in a UPS with more VA like 1200VA or 3KVA online UPS you'll not be facing the backup problem with your UPS while gaming during the power outage.
Another suggestion is that you can combine your UPS with an inverter and match your UPS battery by installing more batteries with the same Amp in a parallel connection. Please be advised that this method is for highly tech-savvy people who understand the Electrical properties of Inverter & UPS.
Here is a list of pretty suitable UPS to solve your problem during the power outage.
UPS battery backup 2200VA / 1980W Pure Sine Wave
APC SmartConnect is a novel, user-friendly remote monitoring tool that delivers automated alerts, firmware upgrades, and sophisticated support services (through a secure site). SmartConnect is free throughout UPS's usual warranty term.
NEMA 5-20P input. (8) NEMA 5-15R output, (2) NEMA 5-20 output
Automatic Voltage Regulation (AVR) reduces high and low voltages to a safe level, extending battery life.
APC Warranty: 3 years for repair or replacement (excluding battery), 2 years for the battery. Policy for Connected Equipment Protection of $150,000
Smart App Sinewave Battery Backup 1500VA/1500W Uninterruptible Power Supply (UPS) System that can handle both Active PFC and traditional power supply. Remote SNMP/HTTP monitoring is provided with the optional RMCARD205 (sold separately)
EIGHT NEMA 5-15R OUTLETS WITH BATTERY BACKUP AND SURGE PROTECTION: Protect corporate servers, department servers, storage equipment, network devices, and telecom systems. NEMA 5-15P straight plug with a six-foot cable is used as the input.
LCD PANEL WITH EXTENDABLE MULTIFUNCTIONS: When put in difficult-to-reach areas, the connected 4.5′ cable allows for removal and relocation. Displays real-time, comprehensive information on the battery and power status.
AVR (AUTOMATIC VOLTAGE REGULATION): Corrects slight power fluctuations without switching to battery power, increasing battery life.
3-YEAR WARRANTY (INCLUDING THE BATTERY); $375,000 Connected Equipment Guarantee; and FREE PowerPanel Business Edition Management Software (Download)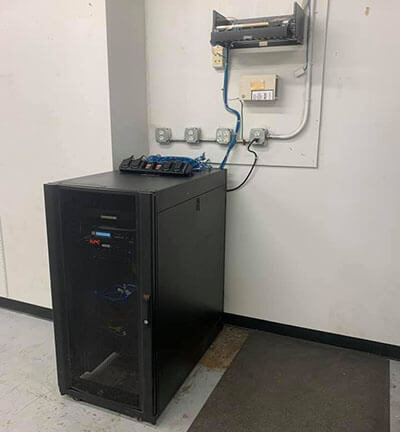 Work during brief blackouts while maintaining a network connection and saving data safely: Smart LCD Battery Backup 1500VA / 900W An uninterruptible power supply (UPS) may last up to 11.8 minutes at half load and 4.4 minutes at full load.
8 power outlets safeguard small servers, PCs, and all peripherals: 8 outlets offer UPS power backup and surge protection (for small servers, desktops, monitors, LCDs, network workstations, audio/video components, media centers, keyboards, external hard drives, wireless routers, and IoT devices).
Brownouts and overvoltages are corrected by AVR without the need for battery power: This conserves battery power during crucial outages and is also known as automatic voltage regulation. It also has tel/DSL/ethernet protection.
Material for UPS housing: Abs; free Management software: Unattended system shutdown and power management are possible thanks to a USB connection and free software. Line power mode has high efficiency of 98 percent.
PFC Sine Wave Battery Backup 1500VA/1000W UPS (Uninterruptible Power Supply) system that can handle both active PFC and conventional power supply. Computers, workstations, network devices, and telecom equipment are all protected.
12 OUTLETS NEMA 5-15R: Six surge-protected outlets, six battery backup & surge-protected outlets INPUT: NEMA 5-15P right angle plug with a 45-degree offset and a five-foot power wire; two USB charging ports (1 Type-A, 1 Type-C) Charges mobile phones and tablets rapidly
COLOR LCD PANEL WITH MULTIFUNCTION: Displays real-time, precise information on battery and power status; Color display warns users of possible problems before they harm essential equipment and create downtime. The screen may be tilted up to 22 degrees.
AUTOMATIC VOLTAGE REGULATION (AVR): Corrects slight power fluctuations without using battery power, improving battery life.
3-YEAR WARRANTY INCLUDES BATTERY; Connected Equipment Guarantee of $500,000 and FREE PowerPanel Management Software
Conclusion:
Hope that this article has opened many possibilities to solve your problem at hand. If this article has helped you to achieve your goal let your friend know by sharing. As you know sharing is caring. Don't let the power outage disturb your uninterrupted gameplay. Enjoy to the fullest.