For PlayStation gamers, the prolonged wait for the next chapter in Kratos' story is over, as God of War: Ragnarok was released only a few days ago. The game has earned nothing but praise from critics on Metacritic, although some PC gamers may want to hold out until the game is officially released. Seeing as how the last God of War game was ported to PC earlier this year, it only stands to reason that God of War: Ragnarok will also make its way to PC. However, Sony has not yet confirmed a PC version, so we cannot be certain that it will occur until it is officially revealed.
When will the PC version of God of War: Ragnarök be released?
A PC version of God of War: Ragnarök is not something I anticipate seeing very soon. But I can make educated assumptions based on the times it took for different PlayStation titles to be converted to PC. Don't hold your breath for it to come out for at least a year. Days Gone, Horizon: Zero Dawn, Uncharted, and the two Spider-Man games are just a few of the popular PS4 games that Sony has just made available on Steam in an unexpected move.
For future releases on PlayStation and the PC platform, we'll see at least a year, PlayStation Studios president Hermen Hulst told YouTuber Julien Chièze (h/t VGC): "perhaps with the exception of live service games." This suggests that the earliest the PC version of God of War: Ragnarök will be on shelves is November 9, 2023.
It's possible that we'll have to wait more than a year for the next God of War game, given that the 2018 installment didn't arrive on PC until 14 January 2022. However, I find it unlikely that the porting process will take as long as the original game.
Beginning in the year 2022, a number of PlayStation games were ported to personal computers. It would seem that Sony is increasing its output of ported titles on the platform, suggesting that the ports are well received.
What Enhancement to expect on God of War: Ragnarok PC?
Enhancements to the graphics
Enhancements in Efficiency
Adaptation to ultra-widescreen aspect ratios of 21:9
You may reprogram your keyboard's shortcuts
Support for DualShock and DualSense
Consistent with GTAO and SSDO
Utilizing RTX NVIDIA Reflex for Deep Learning Super Sampling (DLS)
Can you play God of War: Ragnarok on Steam Deck right now?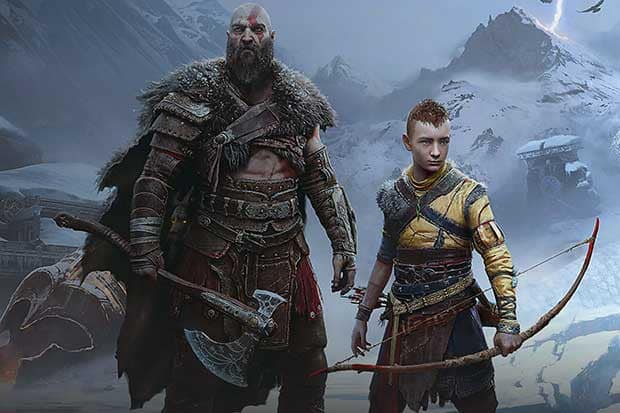 God of War Ragnarok won't be available on PC right away, but if you have a Steam Deck and a PS5, you can try to play the GoW sequel on it.
You'd be reliant on a strong connection and unable to appreciate any of the PS5 haptic feedback in the game. Additionally, there can be FPS drops and the graphics won't be as good.
However, if you own the PS5 version of the game and adhere to the following guidelines from Reddit (reported by WIRED), you can play on Steam Deck:
Download Chiaki in desktop mode from the Discover store.
Launch the PlayStation 5 and select System > Remote Play. Get the eight-digit code. You have five minutes to enter this in Chiaki. If the time expires, another code will be sent.)
Enter the following eight-digit code in the Chiaki settings box. The window is located in Chiaki's upper right corner. It will be a form that requests details about your PS5.
This is the challenging portion. You will be asked by Chiaki for your "PSN Account ID." This URL will take you to a script that will allow you to download it: https://trinket.io/embed/python3/52183a157e?outputOnly=true&runOption=run&start=result&showInstructions=true
Comply with the script's instructions. Your PSN Account ID will be provided (base 64). My usual PSN ID, as seen on the PS5, was inoperative.
Input Chiaki with the base 64 code.
All connections should be present. Play around with the strange key-binds. Have a wonderful time!
Additional steps: (Putting Chiaki into Steam OS)
Launch Steam in desktop mode first.
Visit the library.
At the bottom, select "add non-Steam game."
Choose Chiaki from the provided list (should be visible in the apps)
Click OK.
Access Steam OS.
Pack Chiaki.
Press the PS4/PS5 image that Chiaki has loaded up using your finger.
There may be some stuttering. Your screen should respond if you press the upper right corner.
Some key binds are strange, and a little lag while playing games, however, PS5 remote play seems to work really well.
Conclusion
On the basis of the facts I have gathered, I am confident in saying that the PC version of God of War: Ragnarök will be released in 2024, most likely in the second part of the year. This will guarantee at least 18 months as a console exclusive and allow the developers time to convert the powerful game to PC. If and when a specific PC release date for God of War: Ragnarök is revealed, I will, of course, include it here.