I've played other FromSoftware games on the controller before and struggled until I got the mechanics down pat. I went from Xbox to PC approximately a year ago and am now debating whether to use a keyboard and mouse or a gamepad.
What platform will you be using?
I went back and played Dark Souls 3 on the keyboard and mouse, and it feels a lot easier than I remember it being with a gamepad. I'm just trying to figure out how I want to play this, and it may be dependent on the locking system. Do we latch onto an opponent as we have in previous games, or do we have to track the adversary manually?
Can I play Elden Ring with Keyboard and Mouse?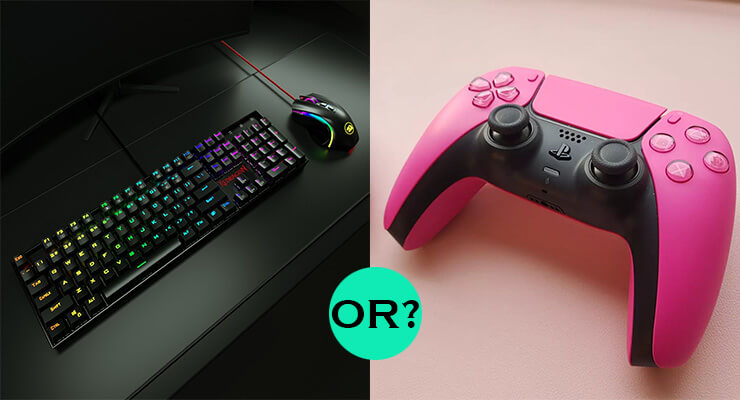 The answer to your query is Yes! You can play Elden Ring with Keyboard & Mouse on your PC.
But if you played any FromSoftware game in past you already know that their games are mostly optimized for Controller. Even though the games like Dark Souls 3 or any other games from the Souls Universe are optimized for Gamepad/ Controller you can play the whole game & beyond with the combination of Keyboard, Mouse.
Elden Ring is far better optimized for Keyboard and Mouse combinations for PC than the previous games by FromSoftware.
Elden Ring Keyboard and Mouse or Controller?
Elden Ring on PC is playable with a keyboard and mouse, but should you do so, or do you need a controller? So, here's our take on it.
Here's what you should expect if you've never played any of FromSoftware's games with a keyboard and mouse. The mouse buttons effectively serve as the L1 and R1 buttons in the usual key bindings, with the left click being a light attack with your main weapon and the right click being an attack with your offhand weapon like Bow-Arrows/ Crossbow-Bolts (or a block if you use a shield).
If your Press the Shift + Left Mouse Button you can launch a powerful assault with your primary weapon. You can Shift + Right Mouse button to activate a weapon skill.
These combat controls take some getting used to, but the game is playable with this arrangement if you're okay with learning and sticking with it until attacking seems natural.
The D-Pad controls, on the other hand, are a source of contention for me.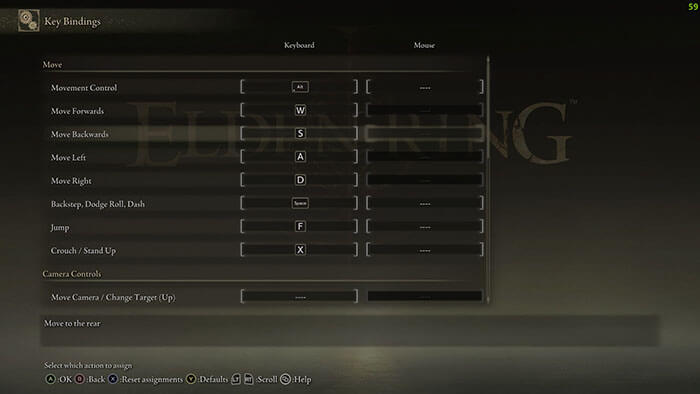 Using the D-Pad on the controller, you may swap between weapons, spells, and objects. In terms of KB/M controls, the arrow keys are the default key bindings for D-Pad functions, thus you'll need to let go of the WASD keys or your mouse completely to change weapons or items. This is not a good setup since you may die to quick enemies/bosses if you need to swap to a different item.
Fortunately, you can rebind the majority of the keys in the game, except for the menu and map, which stay as the Esc and G buttons, respectively. Instead of utilizing the arrow keys for D-Pad controls, you may change them to 1234 for your convenience.
The rest of the controls are OK for the most part, however, you may alter them based on your preferences. The Pouch function, on the other hand, is something we feel might be improved both in Controller & Keyboard-Mouse.
Hold the Triangle/Y button on the controller to bring up the pouch, then hit one of the D-Pad buttons to utilize a preset item. Consider it a macro menu that will save you from having to sift through things in the middle of combat. The default binding for the keyboard controls is 'E,' and in our experience, this does not seem natural to use. To utilize an item in our bindings, hold E and then press a number from 1-4. This frequently meant that we had to remain motionless for a short period, which often resulted in fatalities.
Again, you can get used to it, but in our experience, no matter whatever key bindings we choose, the Elden Ring Keyboard and Mouse controls couldn't accomplish everything as naturally.
The on-screen prompts are another element that may be improved. Because the game does not shift automatically, you must explicitly pick the device for on-screen instructions in Elden Ring for PC. This means that if you need to switch to Keyboard and Mouse, you'll need to go to the settings menu and disable the Xbox buttons in the in-game prompts. This is a small detail, but we had hoped that the procedure might have been automated.
Comparison: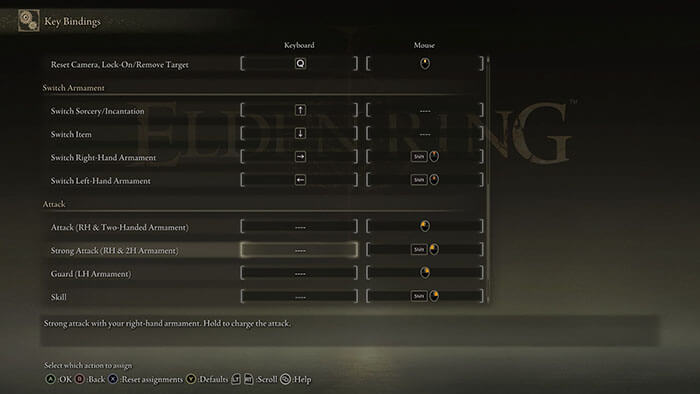 Keyboard and Mouse:
Pros:
You can see around while sprinting.
You can also switch to objects while moving.
Cons:
Rolling and attacking in the desired direction is more difficult since you must use WASD to control your character's direction of travel.
Powerful attacks require two button inputs, whereas the controller requires triggers.
Even though the game is quite hard to play. The Keyboard-Mouse combination will make it more competitive.
Controller:
Advantages:
Using the stick to control your direction is easier.
There are triggers for strong attacks.
Drawbacks:
If you want to move while changing stuff or move the camera while healing/ sprinting/ weapon-swapping, you'll need to use a claw grip.
Verdict between Keyboard – Mouse & Controller
So, should you use a Gamepad or a Keyboard and Mouse combination to play Elden Ring on a PC? If you ask us, we recommend using a Controller whenever possible because it seems more intuitive and natural. While you can play using a keyboard and mouse, there is a learning curve, and using the pouch with this control arrangement is difficult. And we didn't find any crash issues while using either Controller or Keyboard and Mouse.
Elden Ring for PC, thankfully, supports a broad selection of controllers, from the most recent Xbox controllers to the DualSense. However, if you play Elden Ring on a PC with a PlayStation controller, you will still receive Xbox button prompts which is not a big issue.
Best Controller for Elden Ring
As you've already understood that Elden Ring is most enjoyable playing with Controller. You may ask that there are tons of Controllers in the market. So, which one would be the best Controller for playing Elden Ring? Here are some suggestions of the controllers to make your gameplay even more thrilling.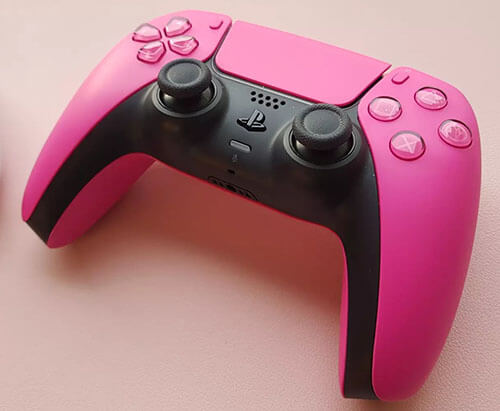 PlayStation DualSense Wireless Controller would be our First Choice to play Elden Ring.
The Controller supports PC games via Cable or Bluetooth. Though you have to use third-party software named DS4Windows.
With the unique new PS5 controller, you can enjoy a more immersive gaming experience. The DualSense wireless controller integrates immersive haptic feedback, dynamic adaptive triggers, and a built-in microphone into a timeless design.
Core Features:
Haptic feedback
Dual actuators that replace typical rumble motors provide physically sensitive feedback to your in-game activities. These dynamic vibrations in your hands may imitate the sensations of everything from surroundings to the recoil of various weapons.
Triggers of Adaptation
As you engage with your in-game gear and environs, you will feel varying degrees of force and strain. Feel directly linked to your on-screen actions, whether it's drawing back an increasingly tight bowstring or tapping the brakes on a rushing automobile.
Built-in microphone and headset jack:
Use the built-in microphone or attach a headset to the 3.5mm connector to chat with pals online. With the dedicated mute button, you can easily turn off speech capture at any time.
Create button
With the create button, you may capture and share your most amazing gaming experiences. Building on the success of the groundbreaking SHARE button, "create" provides gamers with new methods to create gaming content and broadcast their adventures live to the world.
Integrated battery
Charge and play are now possible with USB Type-C.
Built-in speaker
Certain games are given a new dimension with higher-fidelity sound effects blasting from the controller.
Sensor of movement
With the built-in accelerometer and gyroscope, you can add intuitive motion control to approved games.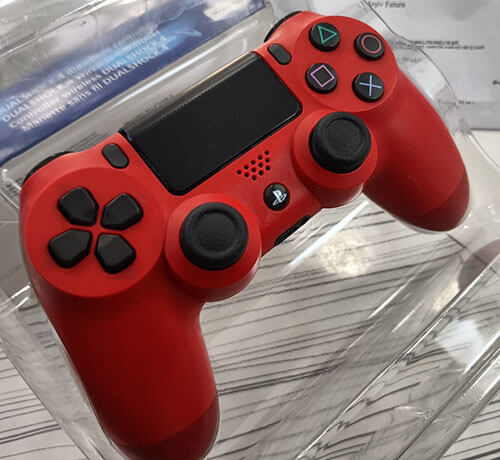 Salient Features:
Analog sticks and triggers that have been fine-tuned
Gain an advantage by exerting greater control over in-game actions.
Lightbar
With the integrated light bar that flashes with different colors based on in-game action – now visible on the touchpad – you can see even more of your games.
USB battery charging
Charge the controller's internal battery via your micro USB connector, allowing you to charge it while playing.
3.5mm stereo headset jack
With an inbuilt 3.5mm audio jack for headphones, you can listen to your games in secret and hear every boom, slam, and explosion.
Motion sensors
Rock and roll as your DUALSHOCK 4 wireless controller's motion, tilt, and rotation are detected by a highly sensitive built-in accelerometer and gyroscope.
Built-in speaker
Bring your games to life and hear every detail with DUALSHOCK 4 wireless controller sound effects.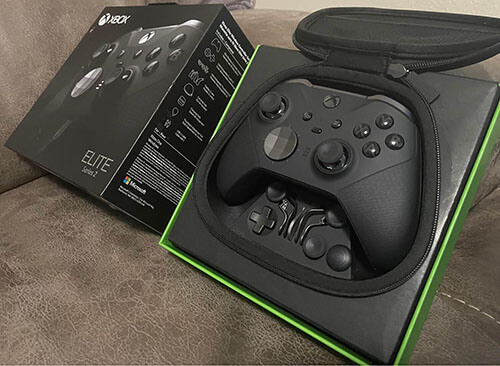 Key Features:
Thumbsticks with adjustable tension
Locks are triggered by shorter hair.
Rubberized grip all around
Redesigned components
Designed for performance: The Xbox Elite Wireless Controller Series 2 is designed to match the demands of today's elite gamers, and it includes over 30 additional ways to play like a pro. Improve your aim with improved adjustable-tension thumbsticks, fire faster with shorter hair trigger locks, and stay on target with a rubberized wrap-around grip.
Designed with you in mind: With new variable thumbstick and paddle forms, you can customize the controller to your favorite gameplay style. On the controller, you can save up to three custom profiles and one default profile and switch between them on the fly using the Profile button. To play across your Xbox console and Windows devices, use Xbox Wireless, Bluetooth, or the supplied USB-C connector.
More methods to personalize: With the Xbox Accessories app, you can personalize your Xbox in an infinite number of ways. Use unique setup options like button mapping to voice commands like "record it" or "grab a snapshot." Assign a button to function as a 'Shift key,' enabling alternate inputs for each of the other buttons.
Designed for longer gameplay: With up to 40 hours of rechargeable battery life and sophisticated components that are meant to last, you can stay in the game for a long time. With the accompanying USB-C connection and charging dock, you can charge the controller inside or outside of the carrying case.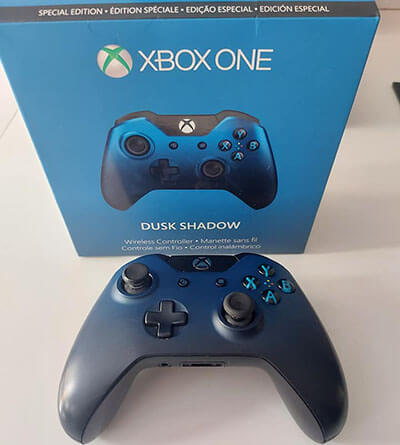 Celebrate 20 Years of Xbox with the Xbox Wireless Controller – 20th Anniversary Special Edition, which comes in traditional black with green hints from the start, and much more. With the green and transparent black controller colors, you may travel back in time to the introduction of the original, translucent green Xbox system. Examine the inside silver features through the translucent blacktop to discover how 20 years of Xbox technology have been carried forward.
Dedicated sharing button: Use the new Share button to capture and share stuff such as screenshots, recordings, and more.
Maintain focus: The classic green Xbox button, D-pad highlights, and back grips honor the beginning while looking forward, harkening back to when the first green X broke through a black field.
Devices for switching: Pair and switch between devices such as the Xbox Series X, Xbox Series S, Xbox One, Windows 10 PC, Android, and iOS with ease.
Compatibility: Xbox Wireless and Bluetooth® technologies are included enabling wireless gaming on consoles, PCs, mobile phones, and tablets. Using the 3.5mm stereo headset port, connect any compatible headset.
Battery: AA batteries with a battery life of up to 40 hours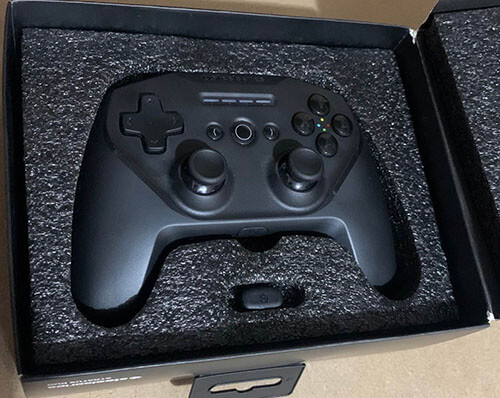 Key Features:
Compatible with Android, Windows, VR, and Chromebooks
Dual-Wireless Connectivity
High-Performance Materials
Steam-Enabled: There is no need for drivers or software! Enjoy complete Steam Big Picture Mode and Steam Link compatibility, as well as the ability to easily connect and play all 5000+ controller-enabled Steam titles.
Two Controllers in One: Switch between 2.4GHz wifi for Windows, Chromebook, and Steam and Bluetooth wireless for Android, Oculus Go, and Samsung Gear VR with the flip of a switch.
Precision and Efficiency
Trigger Design: Magnetic Hall Effect triggers are more durable than conventional counterparts, retaining quick and dependable performance throughout a lifetime of usage.
High-Performance Hardware: Whether you're carefully targeting or button bashing, the full-size ergonomic design, and clickable analog joysticks provide precision and performance.
20+ Hour Battery Life: A lithium-ion battery enables 20+ hours of continuous playtime and can be recharged while playing with the provided Micro USB cord.
Best Keyboard Mouse for Elden Ring
Even though it is best to use a controller for playing Elden Ring you can use Keyboard Mouse for your convenience. A Powerful Keyboard Mouse combo can be your weapon to defeat the tough enemies of Elden Ring. There are a lot of Keyboard Mouse on the market but not all of them will satisfy your needs & deeds. To play & enjoy your gaming experience.
Let's browse our options at hand here: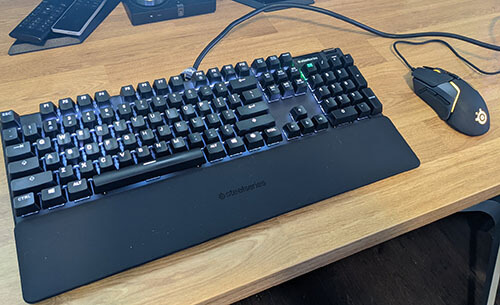 SteelSeries Apex Pro Mechanical Gaming Keyboard
Key Features:
Adjustable Actuation Switches
Fastest Mechanical Keyboard in the World
OLED Smart Display
RGB Backlit
The Omni point mechanical switches on the apex pro mechanical keyboard solve the shortcomings of gaming keyboards and are rated for 100 million keypresses. Each key can be adjusted to achieve the desired actuation, from the world's fastest feather-light touches to deep and typo-free presses, and everything in between, allowing you to play more accurately, quickly, and confidently. An integrated OLED smart display with on-board storage serves as your integrated command center for real-time information from your game, music, or discord, as well as providing software-free customization for tweaking and saving your settings. Its unbreakable aluminum alloy frame makes it the ultimate keyboard for gamers who refuse to settle.
SteelSeries Rival 600 Gaming Mouse
Key Features:
12,000 CPI from SteelSeries Dual Optical Sensor TrueMove3Plus
0.5 Lift-off Distance
Weight System
RGB Lighting
The rival 600 introduces gamers to truemove3+, the world's most advanced dual sensor system. True 1 to 1 tracking is provided by the truemove3 optical sensor, while a dedicated optical depth sensor achieves the lowest and most accurate lift-off distance detection in gaming. The rival 600 has an exclusive custom center of gravity tuning system with 256 weight configurations and a customizable range of 96g to 128g, ensuring the ideal weight and balance for everyone. The powerful 32-bit arm processor provides low latency performance, and 60 million click mechanical switches and durable silicone side grips ensure long-term durability. The rival 600 was designed for professional esports athletes and is an absolute necessity for competitive gaming.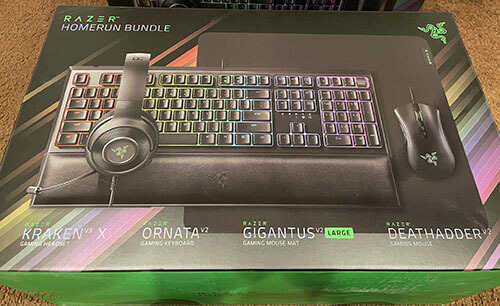 Package including:
Razer Ornata V2 Gaming Keyboard
Razer DeathAdder V2 Gaming Mouse
Razer Kraken V3 X Gaming Headset
Razer Gigantus V2 Mouse Pad
Razer Ornata V2 Gaming Keyboard:
The Razer Ornata V2 features a hybrid switch that combines the advantages of membrane keys and mechanical switches into a single design.
Primary Characteristics:
Razer's Hybrid Mecha-Membrane Technology provides clicky keystrokes with a soft, cushioned feel.
Control is made easier with a multi-function digital wheel and media keys.
Razer Chroma RGB technology is used for customizable lighting and increased game immersion.
Long-lasting gaming comfort is provided by a plush leatherette ergonomic wrist rest.
Custom profiles, key bindings, and macros are all possible with fully programmable keys.
Options for cable routing for a clean setup
Razer DeathAdder V2 Gaming Mouse:
The Razer DeathAdder V2 is an icon, an ergonomic mouse designed with lethal curves and killer lines for a weapon that handles like no other. A new era of high-performance gaming has already begun, with next-generation sensors and switches packed into a smaller form factor.
Primary Characteristics:
RazerTM Optical Mouse switch for lightning-quick response
Razer 20K DPI Optical Sensor for pinpoint accuracy in tracking
Up to 5 Onboard Memory Profiles allow you to customize your settings wherever you go.
82g Control is smooth and effortless thanks to the ultra-lightweight design.
RazerTM Speedflex Cable for smooth swipes and minimal drag
8 programmable buttons for additional control
Gaming Headset Razer Kraken V3 X:
Feel complete immersion without the weight of the Razer Kraken V3 X, a USB PC gaming headset that allows you to game indefinitely. It's time to lose yourself in an audio experience that's always a win, thanks to patented RazerTM TriForce drivers for incredibly realistic sound.
Primary Characteristics:
RazerTM TriForce 40mm Drivers provide superior audio performance.
RazerTM HyperClear Cardioid Microphone for Better Voice Capture
285g ultra-lightweight construction for marathon gaming sessions
Ear cushions are made of a blend of fabric and memory foam for breathable, long-lasting comfort.
7.1 surround sound for precise audio positioning
Razer ChromaTM RGB for customizable earcup lighting and increased game immersion
For non-stop gaming, ultra-light comfort is essential.
Surround sound is only available in Windows 10 64-bit.
Razer Gigantus V2 Mouse Pad:
If you want to make big plays, the Razer Gigantus V2 is the mouse pad for you. It's a soft gaming mouse pad with a textured micro-weave cloth surface that's meant to help you up to your game with fluid swipes and pixel-precise aim.
Features:
The surface of textured micro-weave cloth for speed and control
Thick rubber foam and high-density for greater consistency and durability.
The mat has an anti-slip base to keep it in place.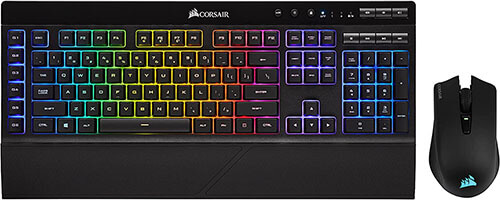 K57 RGB Wireless Gaming Keyboard – Harpoon RGB Wireless Gaming Mouse – Hyper-Fast Slipstream Wireless
Key Features:
Untether yourself and enjoy the freedom of wireless gaming with a CORSAIR wireless gaming keyboard and mouse that works with either SLIPSTREAM WIRELESS or Bluetooth.
Using a single USB receiver for both keyboard and mouse, the ultra-fast SLIPSTREAM WIRELESS technology ensures an ultra-stable long-range signal.
K57 RGB WIRELESS GAMING KEYBOARD: Per-key RGB backlighting with CAPELLIX LEDs, six programmable macro keys, detachable palm rest, dedicated volume and media controls, and up to 175 hours of rechargeable battery life.
HARPOON RGB WIRELESS GAMING MOUSE: 99g weight, simple and easy setup, contoured design, up to 60 hours of rechargeable battery life, six programmable buttons.
The powerful CORSAIR iCUE software allows you to control RGB lighting, create custom macros, and fine-tune your keyboard and mouse.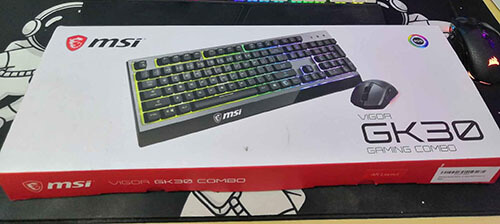 Core Features:
The Vigor GK30 combo includes the Vigor GK30 gaming keyboard and the Clutch GM11 gaming mouse, making it the best PC gaming combo.
Keyboard has special membrane switches for an excellent mechanical feel.
The keyboard has 6-region RGB illumination with 8 amazing light effects and supports MSI Mystic Light Mouse has an asymmetric ergonomic design.
The mouse has high-quality gaming switches that last for 10 million clicks.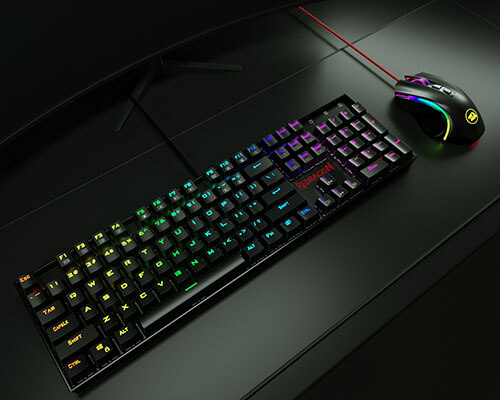 Core Features:
REDRAGON PC GAMING ESSENTIALS: Includes Redragon K551-RGB "VARA" Premium Mechanical RGB Backlit Gaming Keyboard and Redragon Programmable RGB Backlit PC Gaming Mouse M602 RGB LED BACKLIT MECHANICAL GAMING KEYBOARD; 104 Key Mechanical Gaming Keyboard with Custom Mechanical Switches (Cherry Blue equivalent) Quick mechanical keys with medium resistance precise actuation, audible click sound, and tactile feedback 12 splash-proof multimedia keys, with the ability to disable the WIN key. Keycaps are molded for crystal clear backlighting. High-speed USB cable with gold-plated USB connector, made of metal and ABS.
WIRED GAMING MOUSE: Ergonomic Redragon M602A-RGB "Griffin" RGB Backlit Gaming Mouse with a DPI of up to 7200 (user adjustable 800/1200/1600/2400/7200 DPI), 10G acceleration. The High-Precision Sensor provides Pinpoint Accuracy, while the Gaming Grade Micro Switches ensure longevity, greater durability, and extreme responsiveness, giving you an even greater competitive advantage.
ERGONOMIC GAMER MOUSE: The Redragon M602A-RGB PC Gaming Mouse's ergonomic shape is designed for comfort, fitting naturally in your hand, and the tuned buttons reduce click fatigue. Providing eSports Professionals with an extremely comfortable gaming experience, even during the most demanding marathon MMO gaming sessions
GAMING KEYBOARD AND GAMING MOUSE FOR PC COMPATIBILITY: Windows 10, Windows 8, Windows 7, Windows Vista, or Windows XP; Mac OS keyboard support is limited. It is compatible with all major computer brands and gaming PCs. CONTENTS OF THE PACKAGE: The Redragon K551 RGB "VARA" Backlit Gaming Keyboard comes with an M602A-RGB "Griffin" Gaming Mouse and an instruction manual.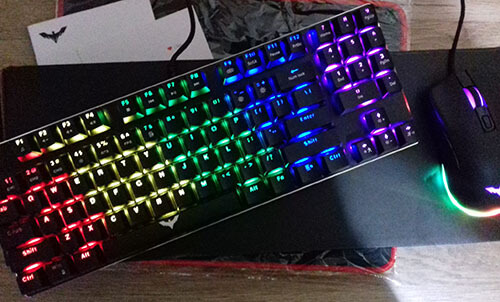 Including:
Havit Wired Gaming Keyboard Blue Switch
7 Button Wired Mouse 4800 DPI
Blue Switch on Mechanical Keyboard:
Changing and colorful lighting with 21 different backlit modes
12 key combinations for multimedia shortcuts (Fn + F1 F12)
High quality, comfortable for typing and gaming
Easy-to-use design, no driver required, plug and play
Anti-ghosting support for all 104 buttons, with the WIN key locked for the best gaming experience.
Optimized key design for quick command entry
Game modes that can be switched and an office work mode
Mouse for gaming
6-speed gears: 800-1600-2400-3200-4000-4800 dots per inch
With a Dots Per Inch switch flashing indicator function and a circular and colorful breathing light effect:
800(green),1600(purple),2400(blue),3200(red),4000(cyan),4800(yellow)
7 different types of light effects:
Breathing mode; Colorful Streaming mode; Rainbow mode; Floe light mode; Waltz mode; Four Seasons mode; LED OFF
The RGB light mode can be changed using the "LED switch button."
Conclusion:
Playing Elden Ring with Keyboard Mouse or with a Controller is fine as long as you enjoy the game. But If you are deemed to play Elden Ring with Keyboard Mouse you can use a good Gaming Keyboard with features like Anti-ghosting, N-key rollover, and most importantly Macro Keys.
With Macro keys you can pre-define some of your frequently used key combinations into an action sequence. Like, you can automate Hit-Hit-Parry-Dodge-Hit with just a single key.
And with the controller, you can trigger, walk, and run from 0 to 100 because of analog tech.
So, it matters a little of which equipment you use to play Elden Ring as long as you get the thrill of its gameplay.